Welcome to our Learn Thai Cooking in Krabi classes! If you have a passion for Thai cuisine, you've come to the right place. We offer a hands-on experience that teaches you how to cook authentic Thai dishes just like locals do.
Explore the Art of Thai Cuisine with Our Krabi Cooking Classes
Rice isn't just a side dish in Thai cuisine; it's the cornerstone of every meal. Whether you're enjoying a spicy curry or a tangy stir-fry, a bowl of perfectly cooked rice enhances every dining experience. Here at our cooking school, you'll learn:
How to properly rinse and prepare rice
Techniques for cooking fluffy white rice
The art of making sticky rice, a Thai specialty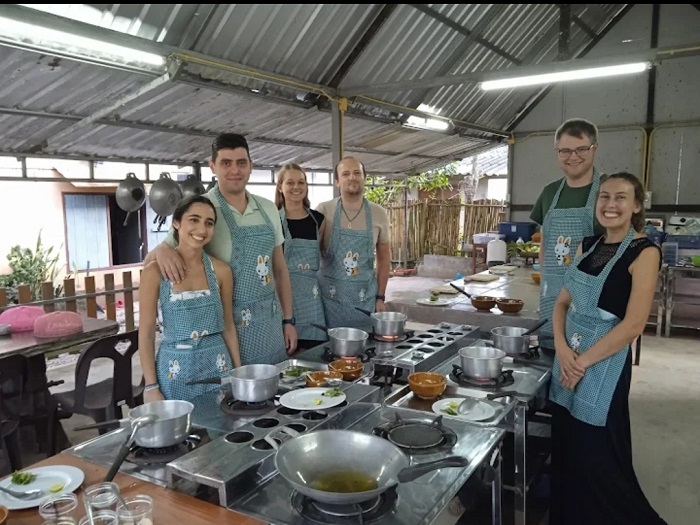 What's on the Menu: Tailor Your Thai Cooking Experience
One of the highlights of our "Learn Thai Cooking in Krabi" classes is the diversity of dishes you can master. From mouthwatering Tom Yam Koog to classic Fried Noodle Pad Thai, you'll have the chance to dive into a variety of flavors and textures. What's more, every dish can be customized to suit your individual preferences. Whether you're vegetarian or have a particular spice level in mind, we've got you covered.
Key Features of Our Daily Courses:
Learn to Cook 7 Signature Dishes: Tom Yam Koog, Fried Noodle Pad Thai, Yellow Curry, and many more.
Vegetarian Options: Every dish can be prepared in a vegetarian version.
Customize Spice Level: Whether you like it spicy or mild, tailor the dishes to your taste.
Affordable Pricing: Only 1200 THB per person for a comprehensive cooking experience.
Convenient Timing: Choose from morning, afternoon, or evening classes to fit your schedule.
Visitor Policy: For a 500 THB fee, bring along someone who wants to watch but not cook.
Remember, classes run at various times throughout the day—Morning from 9 AM to 1 PM, Afternoon from 1 PM to 5 PM, and Evening from 5 PM to 9 PM—so you can pick a slot that best suits your itinerary. Plus, we offer a convenient pick-up service 30 minutes before each class starts.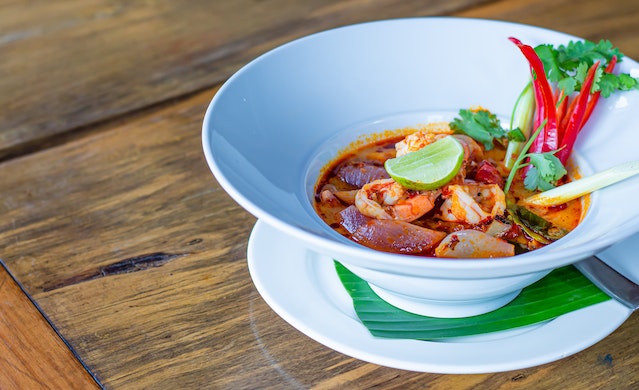 Tailoring Your Learn Thai Cooking in Krabi Experience to Your Preferences
One of the beauties of Thai cuisine is its flexibility. Whether you're a vegetarian or you like your dishes with a little extra kick, we'll show you how to adjust recipes to your own liking. With us, you will discover:
Vegetarian-friendly alternatives for popular dishes
How to balance flavors for a personalized taste
Spice levels and how to adjust them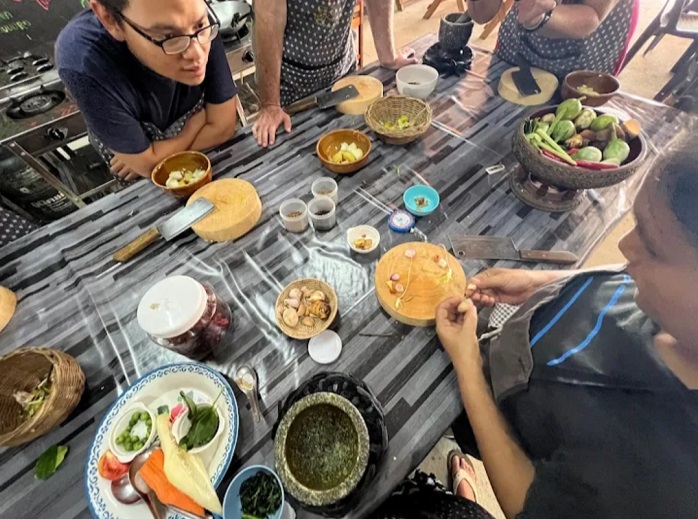 Customize Your Culinary Experience
You're not just following a recipe; you're creating dishes tailored to your preferences. From vegetarian versions to your ideal level of spiciness, the choice is yours.
Why Choose Our Krabi Thai Cooking Classes?
We're not just another cooking school; we're a gateway to authentic Thai culture. By the end of your session, you'll walk away with not only new culinary skills but also a deeper understanding of Thai traditions and cooking practices.
Highly experienced instructors
Hands-on cooking experience
Deep dive into Thai culinary traditions
Become a part of our culinary family and immerse yourself in the true flavors of Thailand. Reserve your spot in our Learn Thai Cooking in Krabi class today!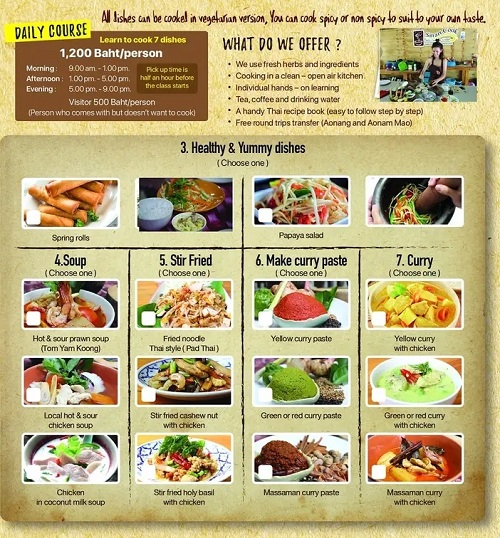 What Sets Us Apart: The Extra Perks of Cooking with Us in Krabi
When you join our Learn Thai Cooking in Krabi classes, you're signing up for more than just a cooking lesson; you're embracing a holistic culinary experience. Cook your Thai favorites in our open-air, ultra-clean kitchen, where individual hands-on learning is our key focus. We supply all the essentials—fresh herbs, high-quality ingredients, and even tea, coffee, and drinking water to keep you hydrated. As a bonus, you'll leave with a handy, easy-to-follow Thai recipe book to recreate these delicious dishes at home. And don't worry about transportation; we offer free round-trip transfers within the Ao Nang and Ao Nam Mao areas.
Krabi Villas Rentals
We are Krabi Villas Rentals, proud partners with Learn Thai Cooking in Krabi. Beyond facilitating this extraordinary experience with Thai cooking, we also offer a diverse range of activities around the Krabi, Ao Nang, and Klong Muang regions. Whether you're seeking adventure, culture, or relaxation, we have something for everyone. To make your stay even more memorable, we offer a selection of 9 luxurious villas available for both short-term and long-term rentals. Explore the wonders of this beautiful region while enjoying the comforts of home at our premium villas.
Price
Free