Welcome to Pool Villa Paraiso – Your Authentic Vacation Rental in Krabi

Immerse yourself in the allure of traditional Thai architecture combined with modern comforts. Our villa showcases authentic Thai-style design, featuring elegant furnishings, traditional artwork, and spacious living areas. Relax in the private pool, unwind on the sun-kissed terrace, or rejuvenate your senses in the lush tropical gardens.
Experience Uniqueness in Krabi: Stay at our Magnificent Traditional Wooden Villa
Indulge in the extraordinary with our magnificent traditional wooden pool villa, nestled within a sprawling one-hectare wooded park in Krabi. With its 14-meter swimming pool, our villa offers a remarkable blend of nature and luxury. Surrounded by the iconic karst mountains of Krabi, it boasts stunning panoramic views of the jungle and cliffs.
Located just 10 minutes away from the pristine beaches of Ao Nang, our villa is perfectly situated in a natural activity hub, offering opportunities for kayaking, trekking, river exploration, and more (view our activities). Whether you're a nature enthusiast or simply seeking a peaceful sanctuary, Villa Paraiso is the epitome of authenticity and tranquility.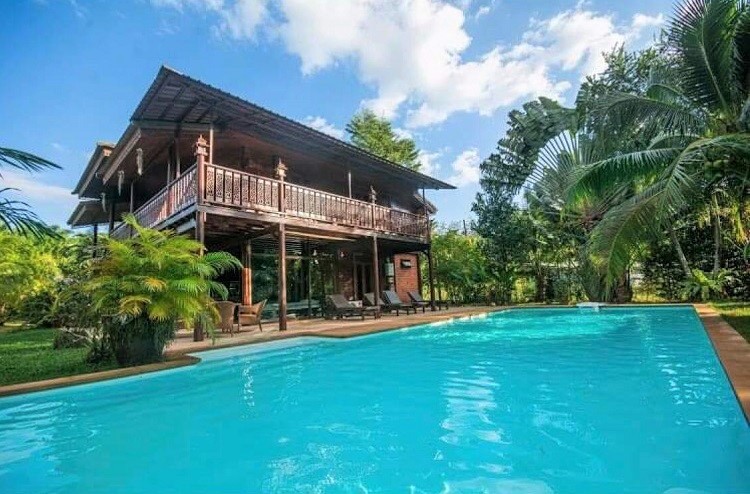 Villa Paraiso, a captivating traditional Thai villa nestled within an expansive garden spanning approximately 10,000 square meters. Immerse yourself in the enchanting ambiance of this two-story house, constructed entirely of tropical hardwood, which infuses life and energy into every corner of the property.
Villa Paraiso is designed to comfortably accommodate up to 8 guests in its spacious and tastefully decorated bedrooms. With the inclusion of a sofa bed, the villa can accommodate up to 10 individuals, making it an ideal choice for larger groups or families. Additionally, for larger parties, extra beds can be arranged, extending the accommodation capacity of the villa to accommodate up to 12 people.
Krabi Villas Rentals Rates: Nightly, Weekend, and Holiday Stays:
| Season | Rate (THB) per night | Dates |
| --- | --- | --- |
| Low season | 5500 | From 16/05 to 30/06 and from 01/09 to 14/10 |
| High season | 6500 | From 07/01 to 08/31 |
| Very high season | 7500 | From 15/10 to 15/05 |
Please note that tenants are responsible for covering the electricity bill before departure, with an additional fee of 6 THB/Kw/h. There is also a departure cleaning fee of 2000 THB. These charges ensure the villa is well-maintained for the next guests.
Kindly settle these charges during check-out. We appreciate your cooperation in keeping our property clean and well-cared for.
Krabi Vacation Rental Villa Rates: Discounts for Stays Longer Than 7 Nights
| Duration | Discount |
| --- | --- |
| Less than 7 nights | No discount |
| 7 nights or more | 10% discount |
| 2 weeks | 15% discount |
| 3 weeks | 20% discount |
| 1 month | 25% discount |
Note: There are no price reductions per week or month during the Christmas/New Year period, which runs from December 15th to January 25th.
Discover the Beauty of Villa Paraiso in Krabi: Photo Gallery
Krabi Vacation Rental Villa Paraiso's Exquisite Design, Spacious Layout, and Thoughtful Features
Villa Paraiso offers a two-story layout, constructed entirely of tropical hardwood. The ground floor features a spacious kitchen, well-appointed bathroom, cozy dining area, and a living room radiating warmth and comfort. A bedroom with two single beds provides a restful retreat. On the second floor, you'll find another inviting living room, three tastefully decorated bedrooms, and two beautifully designed bathrooms. The thoughtful layout ensures privacy and ample space for relaxation and rejuvenation.
Step inside this two-story retreat, crafted entirely of tropical hardwood, and experience the harmonious blend of elegance and comfort. The ground floor welcomes you with a spacious kitchen, a well-appointed bathroom, a cozy dining area, and a living room exuding warmth. A restful retreat awaits on the ground floor with a bedroom featuring two single beds.
Ascend to the second floor to indulge in the inviting living room and explore three tastefully decorated bedrooms, along with two beautifully designed bathrooms. The thoughtful layout of Villa Paraiso ensures privacy and provides ample space for relaxation and rejuvenation.
Relaxation and Convenience: Villa Paraiso's Large Pool, Privacy, and Amenities
In the heart of this remarkable villa, you'll discover a large 14m x 6m swimming pool, surrounded by tropical shrubs and trees, creating a shaded oasis. Take advantage of the four wooden sun loungers, perfect for soaking up the sun and enjoying moments of tranquility.
We have a small storage area which we keep locked and our personal/cleaning items inside. The entrance to the property is closed by a large metal gate for added security. High speed WiFi and satellite cable TV. Water minéral drinking dispenser.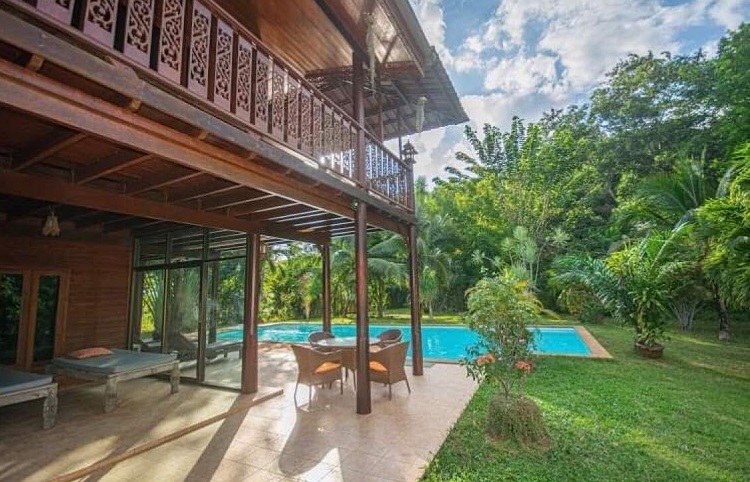 Villa Paraiso offers a spacious retreat, accommodating up to 8 people with its 4 bedrooms, making it an ideal vacation rental for groups or families.
Enhance Your Experience with Extra Services and Amenities:
Extra Bed: 250 THB per bed for more than 8 people.
Home Cooking Option: 500 THB per hour (ingredients are the customer's responsibility).
Daily Cleaning Option: 500 THB for 2 bedrooms, 750 THB for 3 bedrooms, and 1000 THB for 4 bedrooms, including a change of sheets and towels.
Selection of Restaurants: We provide recommendations for home delivery of delicious Thai food.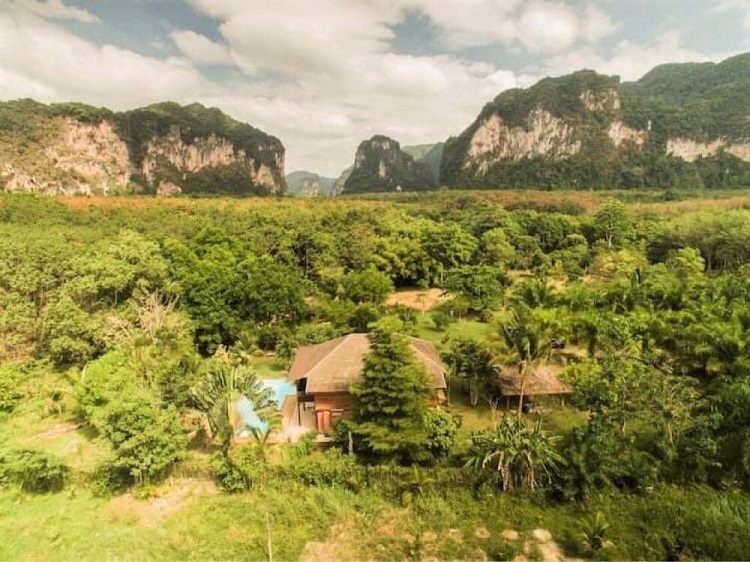 Villa Paraiso Krabi Map Location:
Villa Paraiso in Krabi, Nong Thale
Booking: +66 89 653 07 60