Welcome to Villa Chabba, your ultimate Krabi House Rental For your holidays. Located just 250 meters away from the pristine Klong Muang Beach and the charming fishing village. Additionally, don't miss the opportunity to embark on the famous Dragon's Peak mountain hike, a national park adventure located near the beautiful Tubkaek Beach in Krabi.

Experience the perfect blend of comfort, convenience, and natural beauty at Villa Chabba, your ideal Krabi House Rental featuring two bedrooms, a fully equipped kitchen, and an outdoor terrace with a jacuzzi.
Unwind in Comfort: Villa Chabba Krabi House Rental
this fully-equipped house is the perfect choice for your dream vacation. With two spacious bedrooms and two bathrooms, Krabi house rental Villa Chabba offers comfortable accommodation for your stay. Unwind in the luxury outdoor jacuzzi in the garden, providing a serene retreat to relax after a day of exploration.
The house features a modern, European-style kitchen complete with a gas stove, microwave, toaster, coffee maker, and washing machine fridge.
Indulge in relaxation with the luxurious outdoor jacuzzi nestled in the garden, offering the perfect retreat after a long day. The European-style kitchen is fully equipped with a gas stove, microwave, toaster, coffee maker, and a washing machine fridge. Additionally, unwind on the large sofa in the living room, and take pleasure in the spacious high-ceiling terrace adorned with a table and vibrant bench.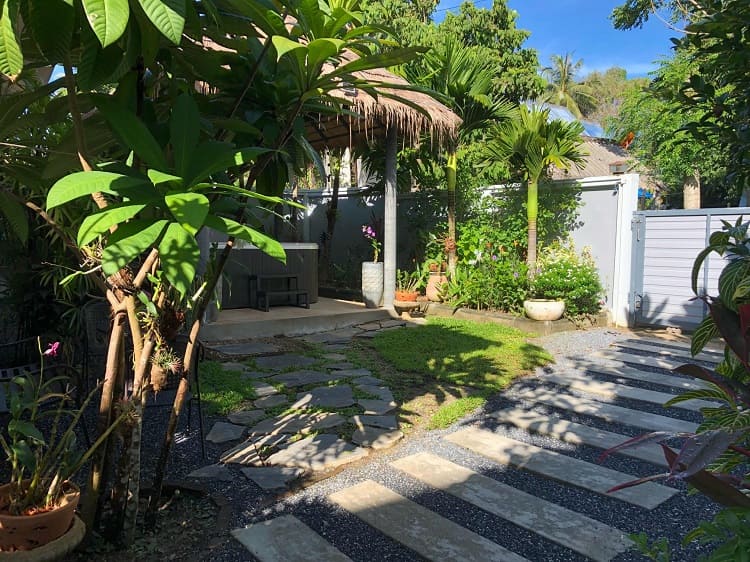 Discover our ideal Krabi vacation rental, just a 10-minute scooter ride away from Ao Nang Beach. Our villa boasts a strategic location, granting easy access to all the region's activities within a few kilometers. Whether you're eager to explore the stunning surrounding islands, embark on jungle hikes, or unwind on pristine white-sand beaches, our house serves as the perfect starting point for your Krabi adventure.
Seasonal Rates and prices for Krabi House Rental Villa Chabba
| Season | Price per Night (THB) | Date Range |
| --- | --- | --- |
| Low Season | 3500 | 01/09 to 14/10, 16/05 to 30/06 |
| High Season | 4000 | 01/07 to 31/08 |
| Very High Season | 4500 | 15/10 to 15/05 |
The tenant is responsible for settling the water and electricity bill upon check-out. Electricity consumption is charged at 6 THB (thai baht) per kilowatt-hour for any additional usage, and water consumption is charged at 27 THB (Thai Baht) per cubic meter.
Discounts Based on Duration
| Stay Duration | Discount |
| --- | --- |
| Less than 7 nights | No discount |
| 7 nights or more | 10% discount |
| 2 weeks | 15% discount |
| 3 weeks | 20% discount |
| 1 month | 25% discount |
PS: There are no price reductions per week/month during the Christmas/New Year period, which is from December 15th to January 25th.
Krabi House Rental Chabba with Jacuzzi: Explore Villa Chabba Photo Gallery
Optional Services and Supplements for Your Stay
Extra Bed: Enhance your accommodation with an extra bed for only 250 THB per night.
Departure Cleaning: Ensure a hassle-free departure with our thorough cleaning service priced at 1000 THB.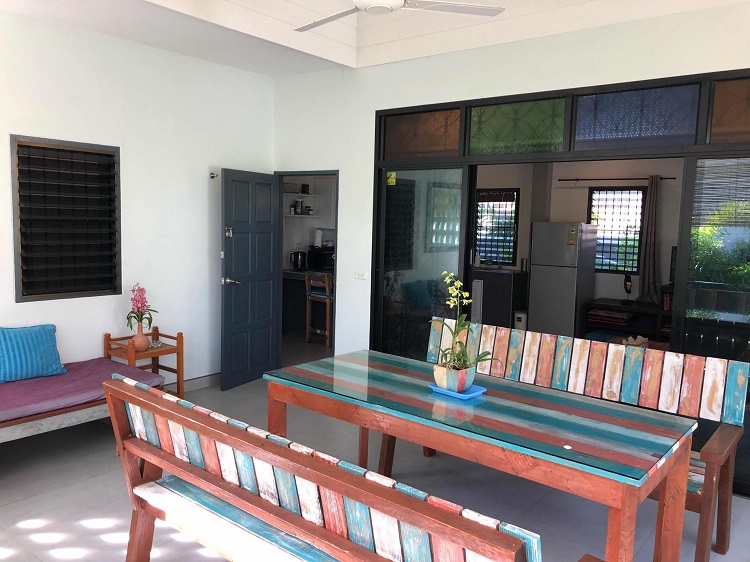 Additional Services:
Home Cooking Option: Indulge in the convenience of home-cooked meals with our home cooking option available at 500 THB per hour. Please note that ingredients are the responsibility of the customer.
Daily Cleaning Services:
2 Bedrooms: Keep your space fresh and tidy with our daily cleaning option priced at 500 THB, which includes a change of sheets and towels.
3 Bedrooms: Enjoy the same daily cleaning service for 750 THB, tailored to three-bedroom accommodations.
4 Bedrooms: For four-bedroom accommodations, take advantage of our comprehensive daily cleaning service priced at 1000 THB, which also includes a change of sheets and towels.
Home Delivery
Explore a selection of restaurants personally recommended by us for delicious Thai food delivered right to your doorstep.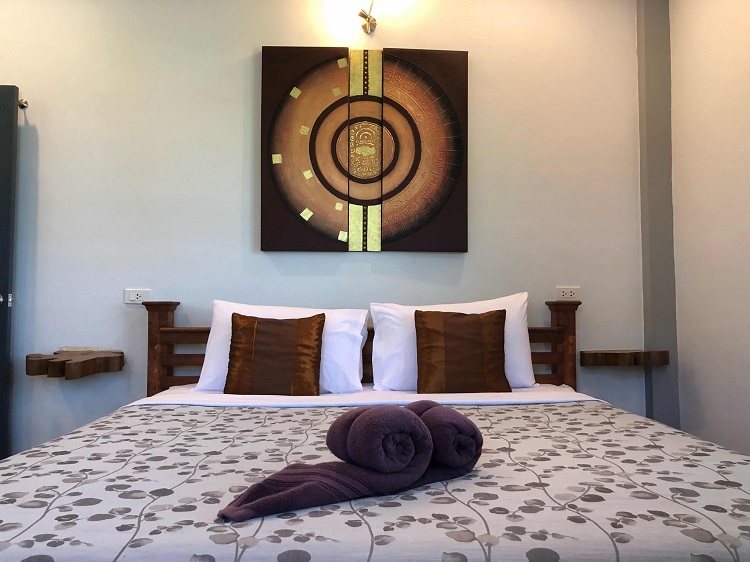 Villa Chabba Krabi, Klong Muang Beach Map Location:
Villa Chabba 2 bedrooms with jacuzzi, Located at Krabi, Klong Muang Beach
Booking / Information:
Tel : +66 89 653 0760