Welcome to our enchanting Krabi Holiday Home "Villa Baan Blue River" holiday home in the Nong Thale region of Krabi. The villa is less than 15 minutes from tourist ao nang and klong muang beach the most beautiful beach in the Krabi area.
Enter the unique heavenly bubble. Nestled amidst the breathtaking mountains of Krabi, our secluded villa offers a serene escape into nature. Immerse yourself in the tranquility of the surroundings, where a natural blue river flows on the land providing a refreshing spot for a dip during the high-water season, from August to April

For the rest of the year, fear not, as we have recently added a brand new swimming pool with an integrated jacuzzi, completed in June 2023. This delightful villa boasts 2 bedrooms and is fully equipped to cater to all your needs. Get ready for an unforgettable vacation in the lap of nature.
Krabi Holiday Home: Pool Villa Baan Blue River For Rent
Villa Baan Blue River, where paradise awaits you. Nestled in an idyllic setting, this cottage offers a unique experience surrounded by nature's beauty. The villa is surrounded by a sprawling 10,000 square meters of land. Prepare to be captivated by the panoramic view of jungle-covered cliffs that envelop the area, creating a breathtaking backdrop.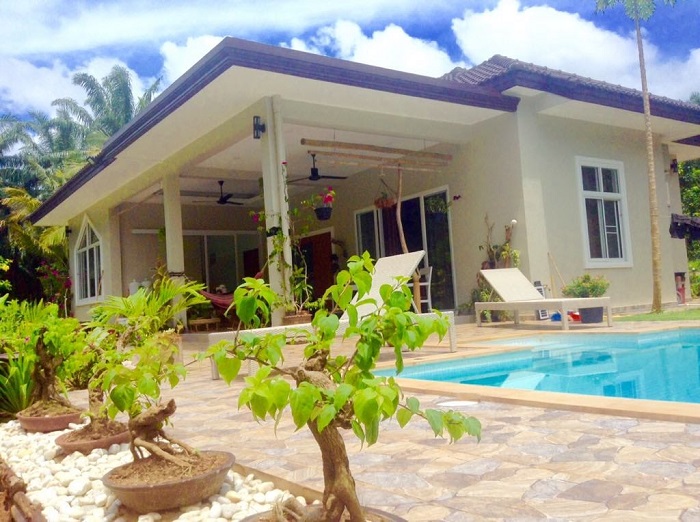 One of the highlights of our cottage is the 250-meter-long natural pool, which is fed by an underground spring. This crystal-clear pool showcases an incredible blue color that is simply mesmerizing. Dive in and immerse yourself in its refreshing waters, enjoying the serenity of your private oasis.
In addition to the natural pool, we have also recently added a swimming pool measuring 5 meters by 3.5 meters. Complete with jets spa and ambient lighting, this pool provides the perfect spot to unwind and indulge in moments of relaxation.
Seasonal Rates for Villa Baan Blue River in Krabi:
| Season | Dates | Price per night (THB) |
| --- | --- | --- |
| Low Season | 01/09 – 14/10 | 5000 |
| Low Season | 16/05 – 30/06 | 5000 |
| High Season | 01/07 – 31/08 | 5500 |
| Very High Season | 15/10 – 15/05 | 6500 |
Please note that during your stay, the tenant will be responsible for the electricity bill, which is calculated at a rate of 6 THB per kilowatt-hour (Kw/h).
Additionally, there will be a departure cleaning fee of 1000 THB, payable upon check-in.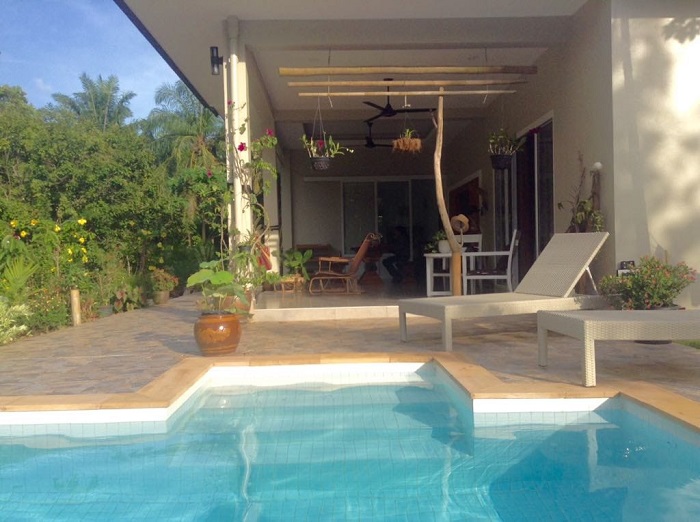 Promotions
| Duration | Discount |
| --- | --- |
| Less than 7 nights | – |
| 7-13 nights | 10% |
| 14-20 nights | 15% |
| 21-27 nights | 20% |
| 28+ nights | 25% |
Please note that there are no price reductions per week or month during the Christmas/New Year period, which extends from December 15th to January 25th.
Experience Exclusive Bliss at Krabi Holiday Home: Privacy, Nature, and Beach Proximity
Situated in a private location, you and your companions will have exclusive access to this little piece of paradise. The villa features two bedrooms, each with its own bathroom, ensuring comfort and privacy for all guests. And when you're ready to explore the surrounding area, you'll be delighted to know that Ao Nang Beach is just a 15-minute scooter ride away, while Klong Muang Beach is a mere 10 minutes away. These beautiful beaches offer sandy shores, clear waters, and a range of activities for you to enjoy.
Situated in complete seclusion, there are no neighbors nearby, ensuring absolute tranquility and immersion in the natural surroundings. You will be able to embrace the serene beauty of the area without any disturbances, creating a truly peaceful and uninterrupted experience.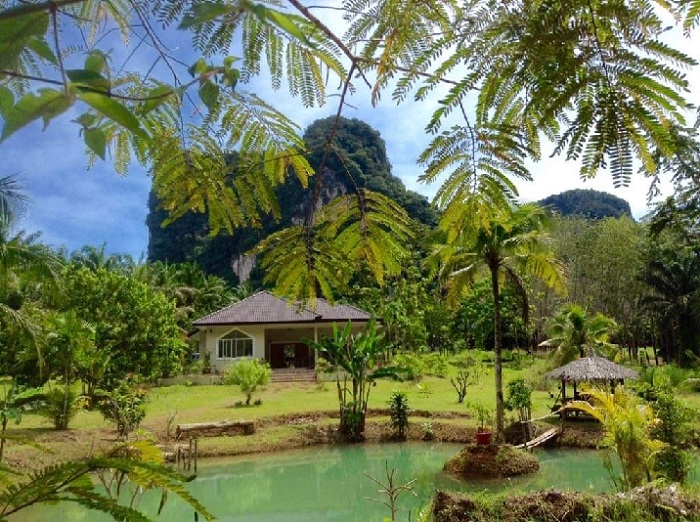 Escape the hustle and bustle of everyday life and embrace the tranquility and natural splendor that awaits you at Villa Baan Blue River. Indulge in an unforgettable experience where peace, serenity, and breathtaking scenery come together to create cherished memories.
Discover a multitude of activities near Villa Baan Blue River in the Krabi region. From hiking and kayaking through the mangroves to full-day boat excursions to explore Railey Beach, the 4 Islands of Krabi, and Ko Hong Island. Dive into the underwater world with thrilling scuba diving adventures or embark on rock climbing expeditions. The possibilities are endless for unforgettable experiences in Krabi.
Enhance Your Stay with Additional Services
Home cooking option: Available at 500 THB per hour (ingredients to be provided by the customer).
Extra Bed: 250 THB per bed for more than 4 peoples.
Daily cleaning option: Choose from 500 THB for 2 bedrooms, 750 THB for 3 bedrooms, and 1000 THB for 4 bedrooms. This service includes a change of sheets and towels.
Home Delivery Food Service: Enjoy the convenience of local Thai restaurant selections delivered right to your doorstep.
Pool Villa Vacation Baan Blue River in Krabi Nong Thale Map Location:
Krabi Holiday Home Baan Villa Blue River: Photo Gallery
Please note that the water level of the river in front of the villa may vary based on seasonal and weather conditions, which are beyond our control.