Welcome to Krabi Villas Rentals: Krabi Car and Scooter Rental! Discover the beauty of Krabi and its surroundings with convenience and flexibility. Whether you want to explore stunning beaches, visit local attractions, or simply have the freedom to get around, our car and scooter rental service is here to meet your needs.
Whether you have rented a villa from us at Krabi Villas Rentals or not, we take pride in offering a diverse selection of high-quality vehicles, including comfortable cars and nimble scooters. Our dedicated team regularly maintains our fleet to ensure that every vehicle is in optimal condition, guaranteeing you a safe and pleasant driving experience.
Whether you're a solo traveler, a couple, or a family, we have the perfect vehicle for you. Experience the natural beauty of Krabi at your own pace, discovering secluded beaches, breathtaking waterfalls, and fascinating cultural sites. Enjoy the freedom to explore according to your own preferences and uncover all the treasures this region has to offer.
Trust Krabi Villas Rentals – Krabi Car and motorcycle Rental to make your Krabi exploration unforgettable.
Book your car or scooter now and get ready for an exceptional adventure with total freedom.
Explore Our Range of Rental Scooters in Krabi: Prices, Descriptions, Features, and Photos
| Scooter Model | Price per Day (THB) |
| --- | --- |
| Honda Scoopy | 250 |
| Honda Zoomer | 250 |
| Honda Click i | 300 |
| Yamaha Aerox | 450 |
| Honda PCX | 450 |
| Honda Rebel | 1000 |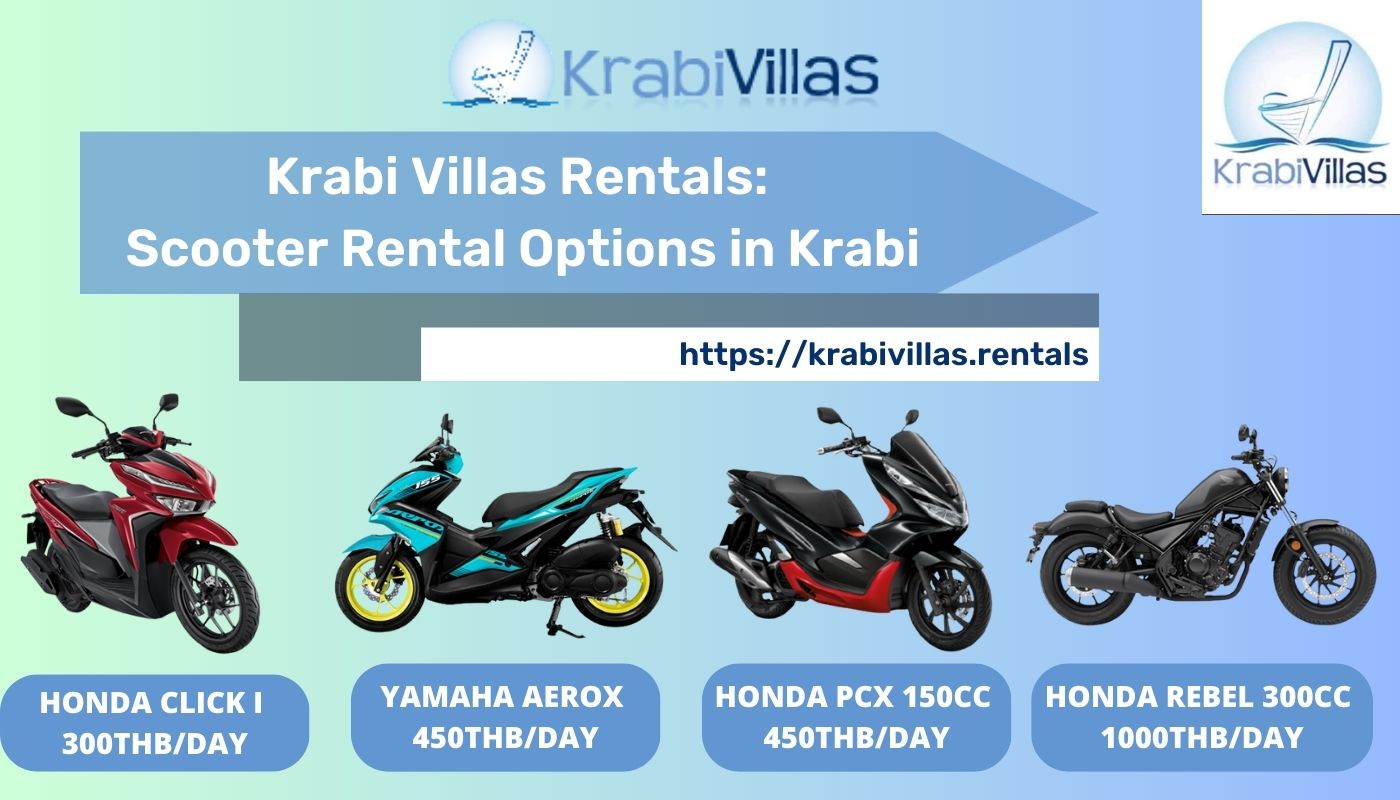 Our Scooter Rental Services at a Glance:
Free pickup and delivery to/from your hotel or villa
Two helmets provided with every rental
Minimum 2-day rental period
Hassle-free return process, we pick up the bike/car from your place
Embark on your Krabi journey with ease and confidence.
Explore Krabi with Convenience: Car Rental Services in Krabi
| Vehicle | Price per Day (THB) |
| --- | --- |
| Toyota Ativ Auto | 1000 |
| Honda City Auto | 1100 |
| Suzuki Swift | 1100 |
| Nissan March | 1100 |
| Toyota Vios | 1200 |
| Honda Jazz | 1200 |
| Toyota Avanza | 1500 |
| Isuzu Mu7 | 1800 |
| Toyota Commuter Mini-Van | 2500 |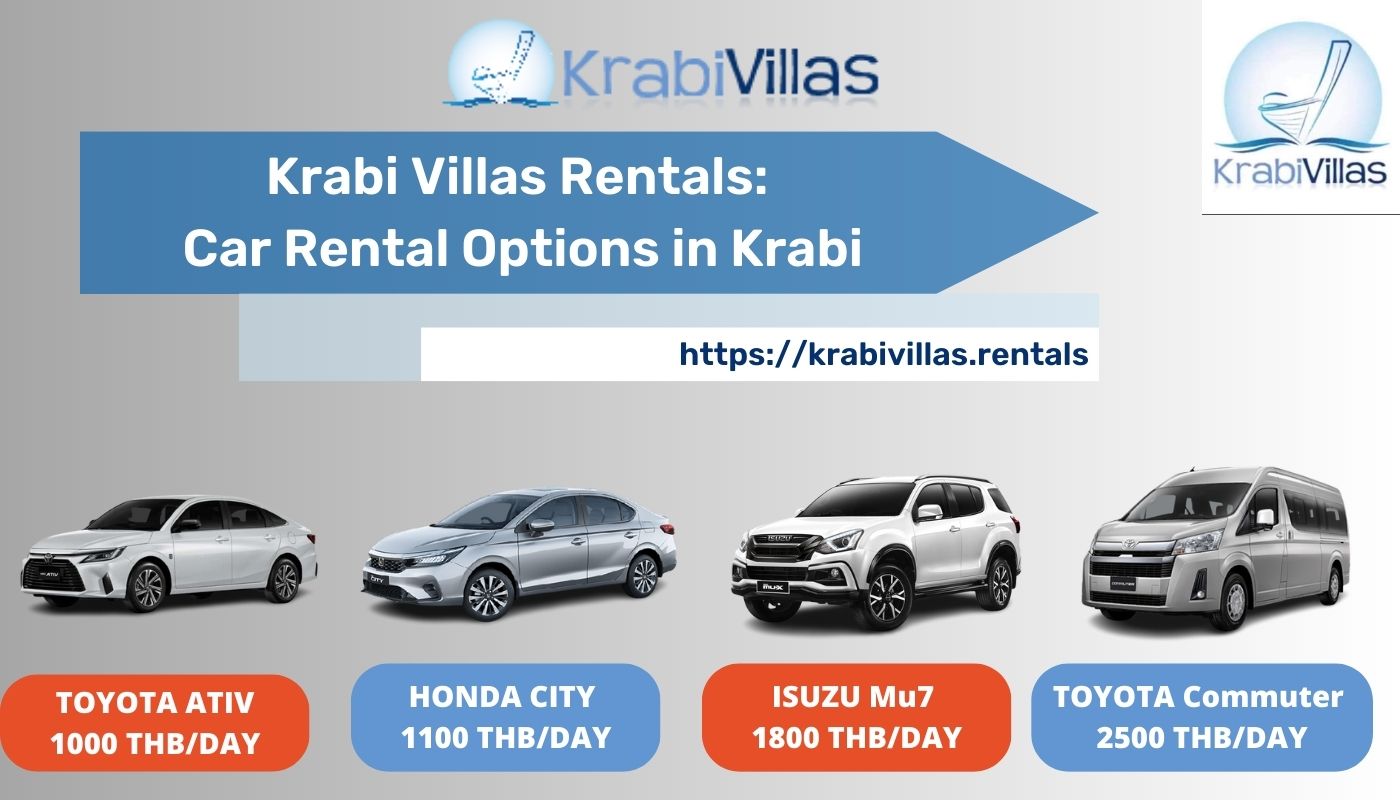 Vehicle Reservation and Deposit Conditions in Krabi
Valid Identification: Please provide a valid passport or driver's license.
Flight Details: For verification purposes, provide your flight tickets indicating your name.
Contact Information: Provide a reachable phone number for communication purposes.
Car Booking Deposit Conditions:
Car Deposit: 3000 baht
Upon confirmation of your reservation, an advance deposit payment of 500 baht is required.
The rental fee and the remaining deposit must be paid at the time of signing the rental contract.
A deposit of 3000 baht will be refunded upon returning the car and after checking its condition.
Note: The amount of deposit for small cars is 3000 baht, and for big cars, it is 5000 baht.
Discover Your Perfect Ride: Car and Scooter Rental Options in Krabi
Hassle-Free Pickup and Delivery Services
At Krabi Villas Rentals, we prioritize your convenience and offer free pickup and delivery services to enhance your experience. Whether you're staying at one of our villas or any other accommodation, we'll bring your rental car or scooter directly to you or arrange for a convenient pickup location. Say goodbye to the stress of finding a rental location and let us handle the logistics.
Safety First: Rider Insurance and Helmets Included
Your safety is our top priority. Every rental at Krabi Car and Scooter Rental, providing you with peace of mind during your exploration of Krabi. We also ensure that both rider and passenger are protected by providing two helmets with every rental. Ride confidently knowing that you're well-equipped and covered.
Flexible Rental Options and Easy Return Process
We understand that every traveler has unique needs. That's why our rental period starts from a minimum of 2 days, allowing you to tailor your rental duration to your itinerary. When your rental period comes to an end, simply leave the bike at your place, and we'll take care of the hassle-free return process. No need to worry about returning it to a specific location or dealing with complex drop-off procedures.
Krabi Car & Scooter Rental: Enjoy the Freedom to Explore
With a car or scooter rental in Krabi, you have the freedom and flexibility to explore Krabi at your own pace. Whether you want to visit the stunning beaches, venture into the lush jungles, or discover the hidden gems of Krabi, having your own rental vehicle provides you with the convenience and independence to make the most of your time in this beautiful destination.
Contact us today to book your perfect ride and embark on an unforgettable adventure in Krabi.