Welcome to Private Villa Titouni in Krabi – Your Ideal Getaway in Klong Muang Beach!
Located just a 250-meter walk from the pristine shores of Klong Muang Beach, Villa Titouni offers a perfect retreat for your vacation. Situated only a short 10-minute drive from Ao Nang Beach, our villa boasts a prime location with convenient access to the area's stunning coastal attractions.
With 3 spacious bedrooms, accommodating up to 6 guests, Villa Titouni ensures a comfortable stay for families or groups of friends. Two of the bedrooms offer breathtaking sea views, allowing you to wake up to the soothing sights and sounds of the ocean.
Discover Your Private Oasis – Private Villa for Rent in Krabi, Near the Beach
Villa Fully Equipped for Your Comfort and Convenience
Rest assured that our private villa in Krabi leaves no detail unattended. Designed for your comfort and convenience, our thoughtfully crafted kitchen and living areas seamlessly blend luxury and practicality. With 3 spacious bedrooms, our villa is ideally suited for up to 6 guests, providing ample space and privacy. However, we can accommodate up to 8 guests with the use of extra beds or sofa beds, ensuring everyone has a comfortable stay. Enjoy a truly relaxing experience knowing that every aspect has been taken care of to ensure you lack nothing during your stay.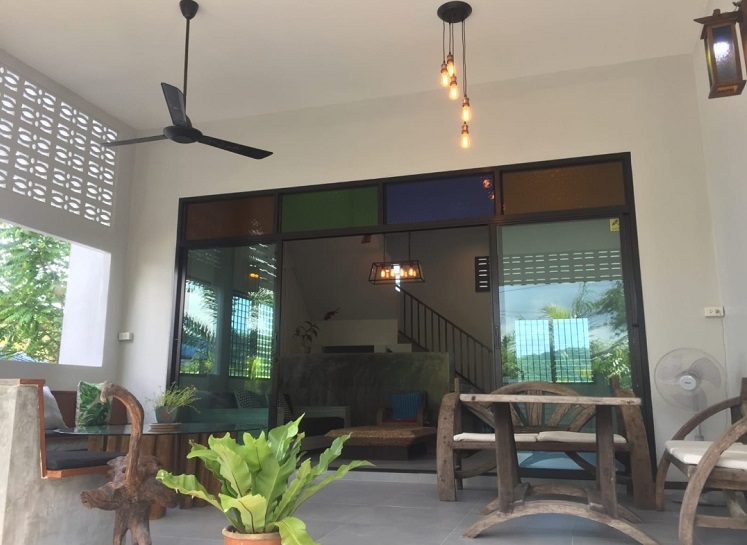 Explore the Beauty of Krabi from Villa Titouni
Immerse yourself in the breathtaking beauty of Krabi while indulging in the comforts of Villa Titouni. Our newly built 3-bedroom house offers stunning sea views from the upstairs bedrooms. Located in a tranquil village, it sits on the road to the Royal Palace, ensuring peace and serenity. Just 250 meters away, you'll find the pristine Klong Muang beach, while the nearby Naka mountain offers a panoramic view of the region for hiking enthusiasts. Our exquisite Villa Titouni not only offers a luxurious retreat in the heart of Krabi but also provides the convenience of on-site parking.
Spacious Living and Dining Areas for Relaxation and Entertainment
The villa features a spacious living room, a fully fitted kitchen, and a large terrace with a dining area. Whether you're looking to unwind and relax or entertain guests, our villa provides the perfect setting. The well-designed living and dining areas create a seamless flow, ensuring comfort and enjoyment throughout your stay.
Convenient Amenities and Nearby Attractions
Experience the Best of Krabi at Villa Titouni
With four restaurants conveniently located in front of the villa, you'll have easy access to the finest dining options in the area, right on the two most beautiful beaches in the Krabi region. Explore the nearby attractions, take leisurely strolls along the beach, or embark on thrilling adventures to create unforgettable memories during your stay at Villa Titouni.
| Season | Price (THB) | Dates |
| --- | --- | --- |
| Low season | 4000 | 01/09 to 15/10, 16/05 to 30/06 |
| High season | 4500 | 01/07 to 31/08 |
| Very high season | 5000 | 16/10 to 15/05 |
An additional fee of 1500 THB applies for departure cleaning.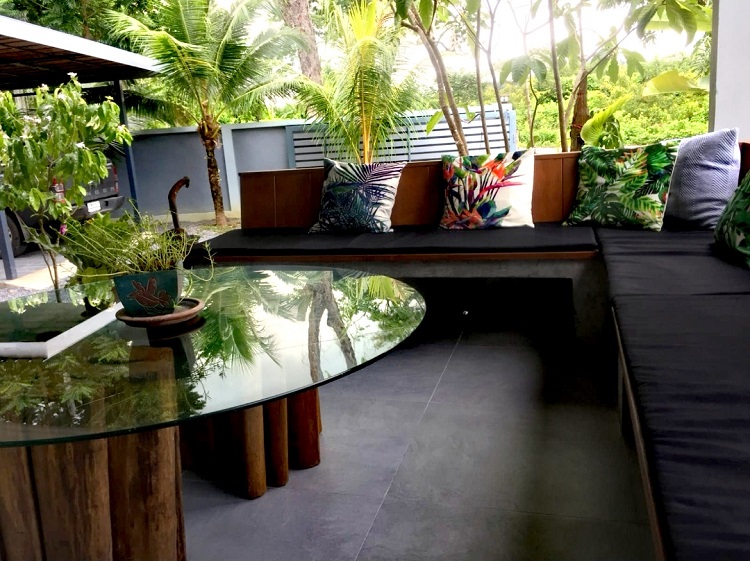 Additional Services and Dining Options
Extra Bed: 750 THB per day
Home Cooking Option: 500 THB per hour (customer responsible for ingredients)
Daily Cleaning Option:

2 bedrooms: 700 THB (includes change of sheets and towels)
3 bedrooms: 1000 THB (includes change of sheets and towels)
4 bedrooms: 1400 THB (includes change of sheets and towels)
Enjoy a range of additional services and dining options during your stay at Villa Titouni. If you require an extra bed, we offer a convenient option for 750 THB per day. If you prefer to showcase your culinary skills, our home cooking option is available at 500 THB per hour, with the responsibility for ingredients falling on the customer.
To ensure a comfortable and clean environment, we offer a daily cleaning option. The prices for the cleaning service are as follows: 700 THB for 2 bedrooms, 1000 THB for 3 bedrooms, and 1400 THB for 4 bedrooms. This service includes a change of sheets and towels, ensuring you have a fresh and pleasant stay.
Additionally, we offer the convenience of car and scooter rental services for our valued guests. Whether you prefer to explore Krabi's scenic beauty by car or enjoy the flexibility of a scooter, our team is here to assist you in arranging the rental. Discover the stunning attractions and hidden gems of Krabi at your own pace with our hassle-free rental services.
In addition, we have carefully selected a range of local restaurants that offer delicious Thai food for home delivery. Indulge in the flavors of Thailand without leaving the comfort of your villa.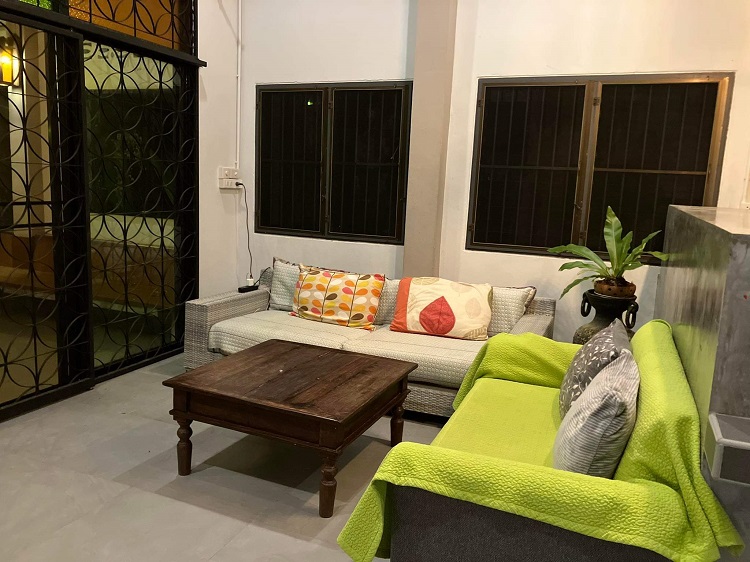 Villa Titouni For Rent Krabi: Flexible Pricing Options Based on Duration of Stay
| Duration | Discount |
| --- | --- |
| Less than 7 nights | – |
| 7+ nights | 10% |
| 2 weeks | 15% |
| 3 weeks | 20% |
| 1 month | 25% |
PS: Please note that there are no price reductions per week or month during the Christmas/New Year period, from December 15th to January 25th.
Book your stay at Villa Titouni today and embark on an unforgettable holiday experience in Krabi.
Villa Location:
Villa Titouni Krabi located 250 meters from Klong Muang Beach
Booking: +66 89 653 0760
Explore the Villa Titouni: A Luxurious Oasis in Krabi – Photo Gallery
Contact Us and Reserve Your Villa in Krabi