The majestic landscapes of Krabi aren't just for beach lovers and rock climbers. Hidden within its lush jungles and scenic terrains lie thrilling off-road trails waiting to be explored. And what better way to traverse these paths than aboard a powerful all-terrain vehicle? Welcome to Krabi ATV, your premier gateway to an adrenaline-charged journey through Krabi's untamed wilderness.
Dive Deep into the World of Krabi ATV Expeditions
Krabi, known for its picturesque beaches and imposing limestone cliffs, holds a secret for the thrill-seekers. Behind its serene exterior is a wild, rugged terrain perfect for an ATV Extreme experience. At Krabi ATV, we offer more than just a ride. It's an adventure that promises heart-pounding excitement, a test of skill, and the opportunity to be one with nature. Each twist and turn bring forth a new challenge, ensuring that every journey is unique and memorable.
Explore Krabi Like Never Before
If you've seen Krabi's coastline, it's time to explore its heartland. With our top-of-the-line ATVs, riders get to uncover hidden trails and secret spots that are often overlooked by regular tourists. From glistening waterfalls to panoramic mountain views, Krabi ATV lets you experience the region in its rawest and most authentic form. As the wind brushes against your face and the roar of the engine fills your ears, it's not just about reaching the destination, but cherishing every moment of the journey.
Embark on an experience that seamlessly merges adrenaline-pumping excitement with the breathtaking beauty of nature. Whether you're a seasoned rider or a newbie, Krabi ATV ensures a safe yet exhilarating trip tailored to your skill level. Come, conquer challenging terrains and leave with memories etched in tire tracks and mud splashes.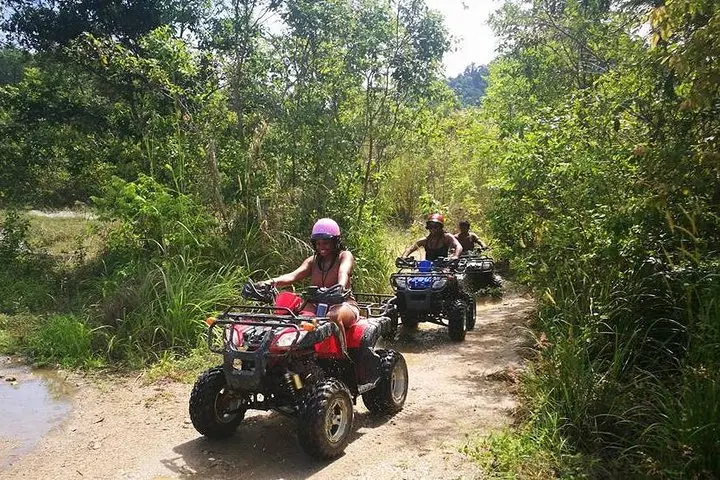 What is Included?
When you embark on a Krabi ATV adventure, we ensure a hassle-free experience by including:
Guide: Our trained and knowledgeable guides will lead the way, ensuring not only your safety but also sharing intriguing tidbits about the trails and surrounding areas.
ATV: No need to bring your own vehicle. We provide top-of-the-line ATVs, well-maintained and primed for the rugged terrains of Krabi.
Water: Stay hydrated during your journey. We provide fresh water, so you can focus on the adventure and not on your thirst.
Pick up at your hotel/resort: Forget the stress of finding your way to us. We offer a convenient pick-up service from your hotel or resort, making the start of your adventure as smooth as possible.
What to Bring With You?
Venturing on an ATV ride through Krabi's wild terrains is an exhilarating experience. To make the most of your adventure and ensure safety, we recommend you bring along the following essentials:
Sturdy Footwear: Closed-toe shoes with a good grip, like hiking boots or sports shoes, are ideal. Avoid flip-flops or sandals as they won't offer the protection or stability needed.
Comfortable Clothing: Wear clothes that you don't mind getting dirty. Lightweight, long-sleeved shirts and pants can provide protection against scratches from foliage or potential minor spills.
Sunglasses and Hat: Protect yourself from the sun's rays during the journey. Though helmets will be provided, a cap can be useful during breaks.
Sunscreen: The tropical sun can be intense, so don't forget to apply and bring along a high SPF sunscreen.
Extra Water and Snacks: While we provide water, it might be a good idea to bring some extra, along with some energy-boosting snacks.
Camera or Action Camera: You'll encounter scenic spots along the way. Capture those unforgettable moments (but ensure they're secured during the ride).
A Small Backpack: To keep your essentials in one place and easily accessible.
Krabi ATV Brochure: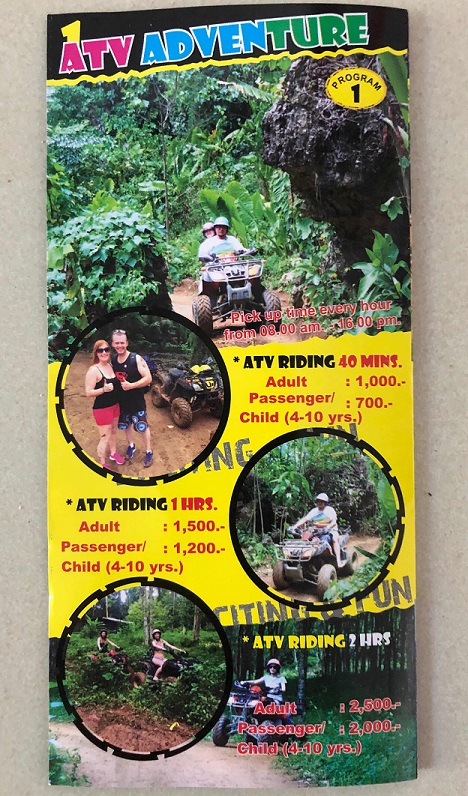 Price
Free